Campaign performance like never before.
The LEXION.
A successful harvest calls for the precise interaction of the entire machine chain, with the combine harvester playing a key role. It is the decisive factor for reliable seasonal performance, year after year.
The optimised LEXION models are the most productive machines on the market – measured in terms of harvested area or tonnes per year. Even when operating in unfavourable conditions, they can be counted on to bring their strengths to bear precisely when you really need maximum performance. So you can save time and fuel while operating more productively than ever before.
Find out how the LEXION can help you to bring in your next harvest on time, economically and reliably.
Precision.
Optimum performance, even when time is at a premium.
CEMOS AUTO HEADER is the first assistance system that automatically adjusts cutterbar settings, such as table length and reel position, to the harvesting conditions at the touch of a button. This leads to a consistent crop flow and improves the performance of the threshing unit as well as the separation and cleaning functions.
Efficiency.
Reduce fuel consumption and increase your yield.
It is precisely when you are operating under adverse conditions that maximum performance and efficiency are the most important criteria for success. The top LEXION models impress with fuel consumption of about 1 litre per tonne at high throughput and deliver their top performance exactly when it is really needed.
Comfort.
Be comfortably more productive.
Everything about the LEXION's new cab is designed for comfort. It is noticeably more spacious and features a completely new air conditioning concept. The intelligent control concept with the bright CEBIS terminal allows you to exploit the full potential of the machine.
Reliability.
Operating reliability you can count on.
When a combine harvester sets the standards for power and performance, it should do the same with regard to endurance and reliability, too. The intelligent drive system of the LEXION is one of the many factors which keep maintenance requirements low and operating reliability high.
Discover the strengths of the LEXION.
With every harvest bringing new challenges every working day, it is reassuring to know that you can count on process technology that is able to cope, whatever the requirements may be. The LEXION has everything it takes to deliver top campaign performance. The feeder housing, APS SYNFLOW threshing unit, ROTO PLUS secondary separation and the straw management system work together precisely and ensure the success of your harvest.
You can count on the performance of the LEXION 8000.
Whichever LEXION you decide on, it will become a key player in your harvesting chain. The LEXION 8000 model series with the APS SYNFLOW HYBRID threshing system offers you a choice of four models with high throughput for an extremely wide range of conditions.
The LEXION 8900 is the flagship of the model series. With the LEXION 8700 and 8800 models, increased engine output and optimised process technology guarantee even higher performance reserves than the predecessor models. The new LEXION 8600 completes the line-up and impresses with its cost-effectiveness and solid throughput under all harvesting conditions.
The automatic way to secure excellent campaign performance.
The CEMOS AUTOMATIC self-learning assistance system supports you actively throughout the entire work process. It checks all the settings on the basis of harvesting parameters such as throughput, standard of cleaning, grain quality and threshing quality while the machine is running and optimises it up to its technical performance limits.
CEMOS AUTOMATIC has a modular structure. You can configure both the entry-level version and the full version in line with your specific requirements in order to benefit from digitalisation in three ways: more comfortable operation, a smoother harvesting process and lower costs.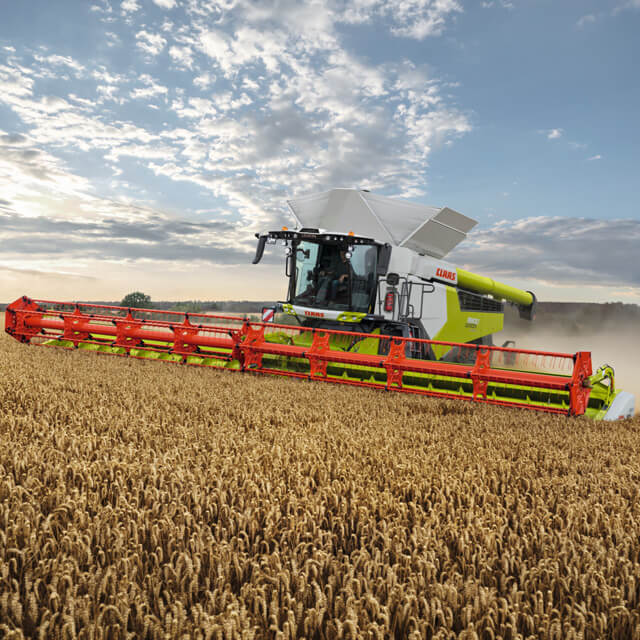 Optimum performance, even when time is at a premium.
The FIELD SCANNER sensor detects the height of the plants while the material feed height sensor in the feeder housing evaluates the crop flow. On the basis of these data, CEMOS AUTO HEADER actively controls the position of the reel and the VARIO cutterbar table. This results in an optimal crop feed at all times along with a significant reduction in the workload for the operator.
CEMOS AUTO HEADER has been awarded a silver medal by the Agritechnica Innovations Commission.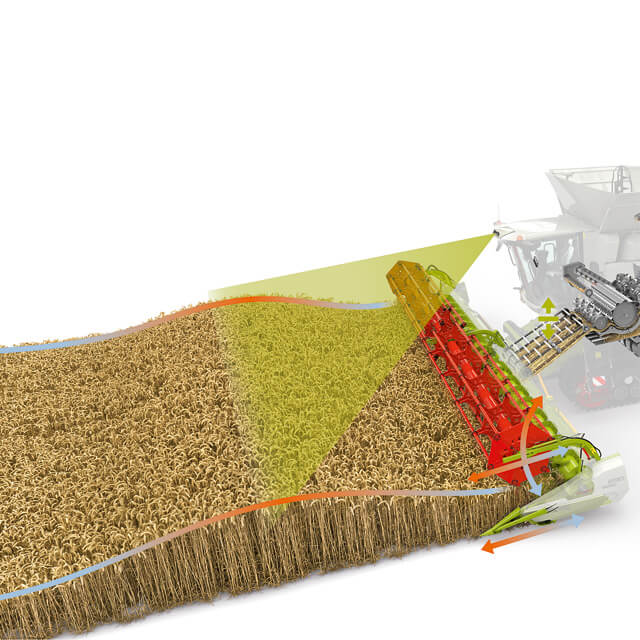 Make your fleet more cost-effective.
Harvesting large areas can be a major challenge for your machines. Linking them intelligently by means of a system like CEMOS CONNECT allows you to optimise simultaneously the capacity usage, throughput and grain quality across all the machines deployed.
CEMOS CONNECT links your combine harvesters when they are operating so that the settings of one machine can be transmitted to others. The data from the transmitting machine, whether optimised manually or controlled via the CEMOS AUTOMATIC assistance system, are picked up by the receiving machines.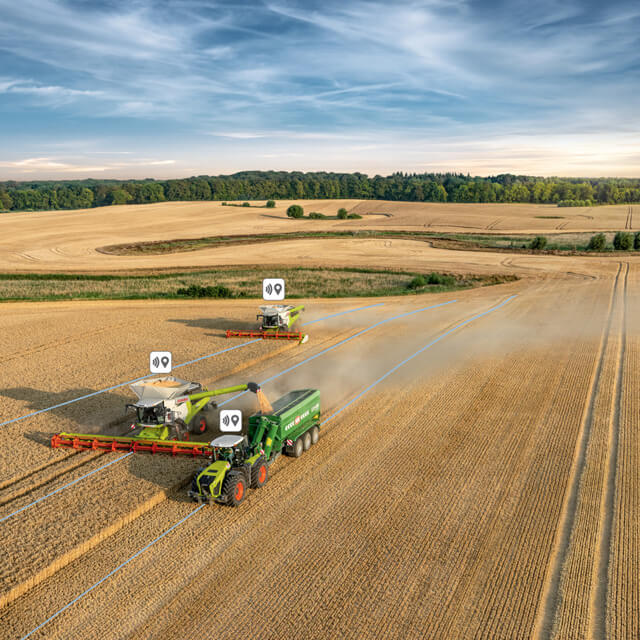 The wide range of LEXION models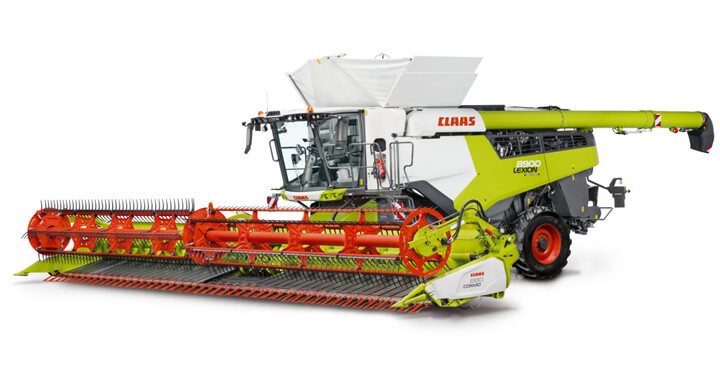 LEXION 8000/7000
High-throughput APS SYNFLOW HYBRID threshing unit
High-performance separation
Powerful engines with up to 790 hp
Grain tank volume of up to 18,000 l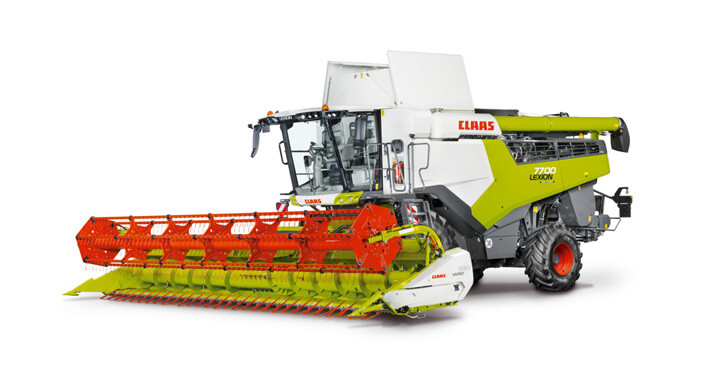 LEXION 7700 MONTANA
Automatic longitudinal compensation up to 6 %
Side slope compensation up to 18 %
Precise MULTI CONTOUR feeder housing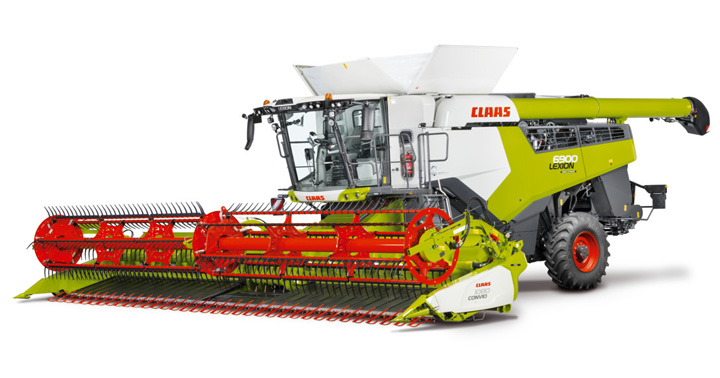 LEXION 6000/5000
High throughput APS SYNFLOW WALKER threshing unit
High-performance separation
Powerful engines with up to 507 hp
Grain tank volume of up to 13,500 l.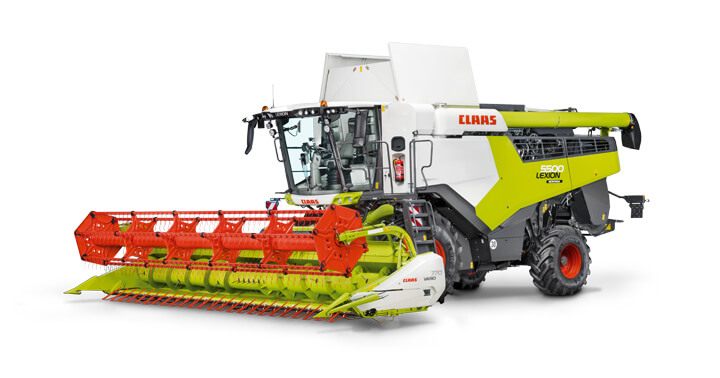 LEXION 5500 MONTANA
Automatic longitudinal compensation up to 6 %
Side slope compensation up to 18 %
Precise MULTI CONTOUR feeder housing

The LEXION 8000/7000. Increase your yield.
Impressively powerful performance translates into profitable efficiency. The top-of-the-range LEXION models deliver their top performance precisely when your operators really need it. This means that you save time and money while benefiting from exceptional productivity.
Configure yours now
Cab and comfort
Digitalisation
Crop flow
Engine and running gear
Service contracts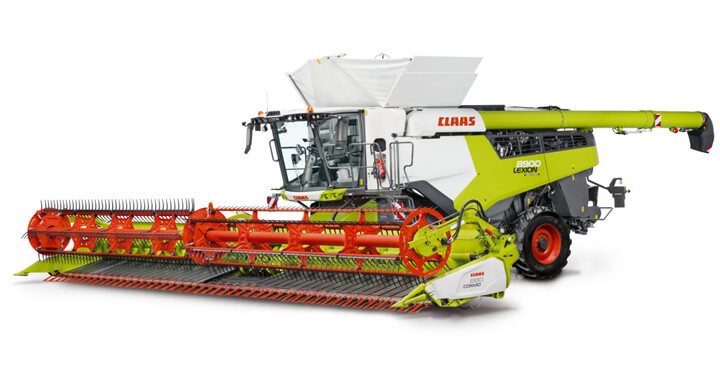 The LEXION 8000/7000.
Top performance is in its DNA.
Get to know the LEXION 8000/7000 a little better. Request a quote or contact us for advice on your specific requirements. Whatever your farm needs, the LEXION has the answer.
High-throughput APS SYNFLOW HYBRID threshing unit
Precise straw spreading up to 13.80m
Powerful engines up to 790 hp
Grain tank volume of up to 18,000 l
Technical data
You can optimise the performance of the LEXION 8000/7000 to match the requirements of your harvesting campaign precisely.
LEXION
Threshing drum width
(mm)
Rotors
No.
Grain tank
(l)
Maximum output
ECE R 120 (kw/hp)
8900/8900 TT
1700
2
15000/18000
581/790
8800/8800 TT
1700
2
15000/18000
515/700
8700/8700 TT
1700
2
13500/15000
460/626
8600/8600 TT
1700
2
12500/13500
404/549
7700/7700 TT
1420
2
12500/13500
404/549
7600/7600 TT
1420
2
12500
373/507
7500/7500 TT
1420
2
11000/12500
340/462
7400
1420
2
10000/11000
300/408

LEXION MONTANA.
Harvests on slopes as effectively as on level ground.
The LEXION 7700 MONTANA is the ideal combine harvester if your farm is located in a hilly region. With 4-wheel drive and differential lock, it is perfectly at home in particularly challenging terrain and is able to operate successfully even under extreme conditions.
With its fully automatic side slope compensation of up to 18% and longitudinal compensation of up to 6%, the LEXION 7700 MONTANA is able to cope with even the hilliest of fields. Efficient cutting on slopes is ensured by the MONTANA feeder housing with precise MULTI CONTOUR cutterbar guidance.
Configure yours now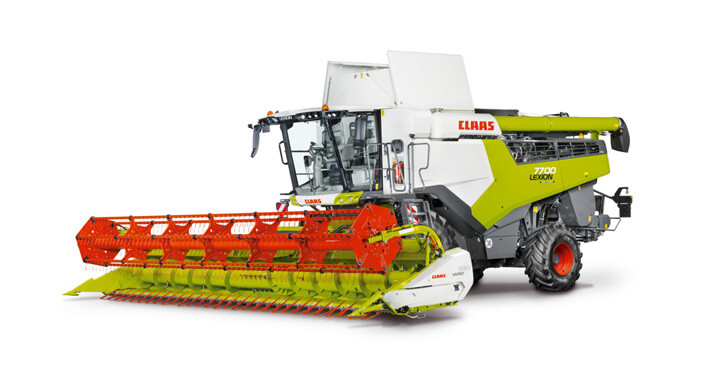 Everything you need for sloping terrain.
The interplay of all the MONTANA components ensures that you can also harvest effectively on challenging slopes. Whatever the conditions, you can operate safely and reliably while enjoying a high level of driving comfort because your seating position is always level. All MONTANA functions run automatically – adjusted to the slope of the field.
The MONTANA system controls the chassis automatically on slopes of up to 18%.
The feeder housing compensates for slopes up to 20%.
The MULTI CONTOUR feeder housing provides longitudinal levelling up to 6%.
The differential lock and 4-wheel drive provide high traction and reliability.
The powerful 2-speed ground drive enables a working speed of up to 12.5 km/h in first gear.
AUTO SLOPE adjusts the fan speed automatically, as required.
LEXION
Threshing drum width
(mm)
Rotors
No.
Grain tank
(l)
Maximum output
ECE R 120 (kw/hp)
7700 MONTANA
1420
2
11000
404/549

Reduce your fuel consumption and increase your yield.
Find your CLAAS distributor.
We have created a dense distribution network to ensure that there is always a CLAAS distributor in your area. It is therefore always possible for you to find out about the CLAAS product range, order genuine parts and benefit from CLAAS customer service in your region. Your local CLAAS distributor will be pleased to assist you.